AEG Presents
Stay Tuned with Preet Bharara
Special Guests: Dana Nessel, Barbara McQuade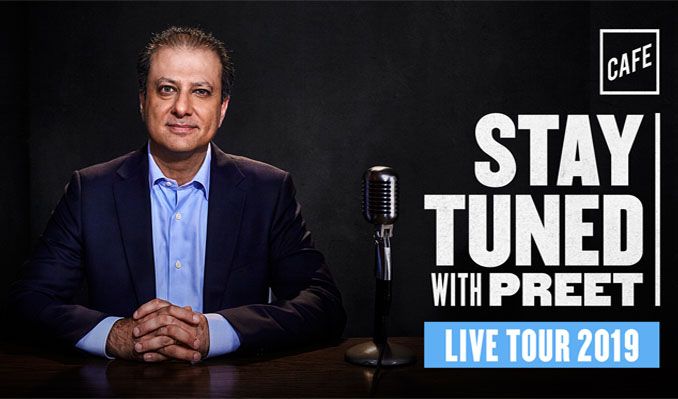 share
Artist Information
Bios: Preet Bharara, Dana Nessel, and Barbara McQuade
Preet Bharara served as U.S. Attorney for the Southern District of New York from 2009 to 2017. He oversaw the investigation and litigation of all criminal and civil cases. His team of Assistant U.S. Attorneys handled cases involving terrorism, financial fraud, public corruption, and organized crime. The New York Times dubbed Bharara one of "the nation's most aggressive and outspoken prosecutors." He is now the host of CAFE's Stay Tuned with Preet, a podcast focused on issues of power, policy and justice.
Dana Nessel, Michigan's 54th Attorney General, began her legal career as an Assistant Prosecutor in the Wayne County Prosecutor's Office. For more than a decade, she was assigned to a number of elite units within the office. Nessel is also recognized as one of the premier litigators of LGBTQ issues in Michigan. In 2016, she and Wayne County Prosecutor Kym L. Worthy created the Fair Michigan Justice Project, a first of its kind task force which investigates and prosecutes hate crimes committed against the LGBTQ community. Nessel has received numerous awards for her civil rights initiatives, including the "Champion of Justice" award from the Michigan State Bar Association.
Former U.S. Attorney for Michigan's Eastern District, Barbara McQuade will join Preet onstage to discuss strains on the rule of law under the Trump administration, Congressional efforts to hold the president accountable, and the outlook for impeachment.
Then our previously announced guest, Michigan Attorney General Dana Nessel, will speak with Preet about the most pressing local issues and her office's efforts to challenge the Trump administration's policies on climate, immigration and healthcare.
From 2010 to 2017, Barbara McQuade served as the U.S Attorney for the Eastern District of Michigan. Ms. McQuade was appointed by President Barack Obama, and was the first woman to serve in her position.
Before becoming U.S. Attorney, Ms. McQuade was an Assistant U.S. Attorney in Detroit for 12 years, serving as Deputy Chief of the National Security Unit. She is currently a law professor at the University of Michigan, where she teaches criminal law, criminal procedure and national security law. She is also a legal analyst for NBC News and MSNBC.
Read More
*Service and handling fees are added to the price of each ticket.
Tue, November 12, 2019
7:00 PM
$39.50 - $49.50

All Ages